Government Administrative Divisions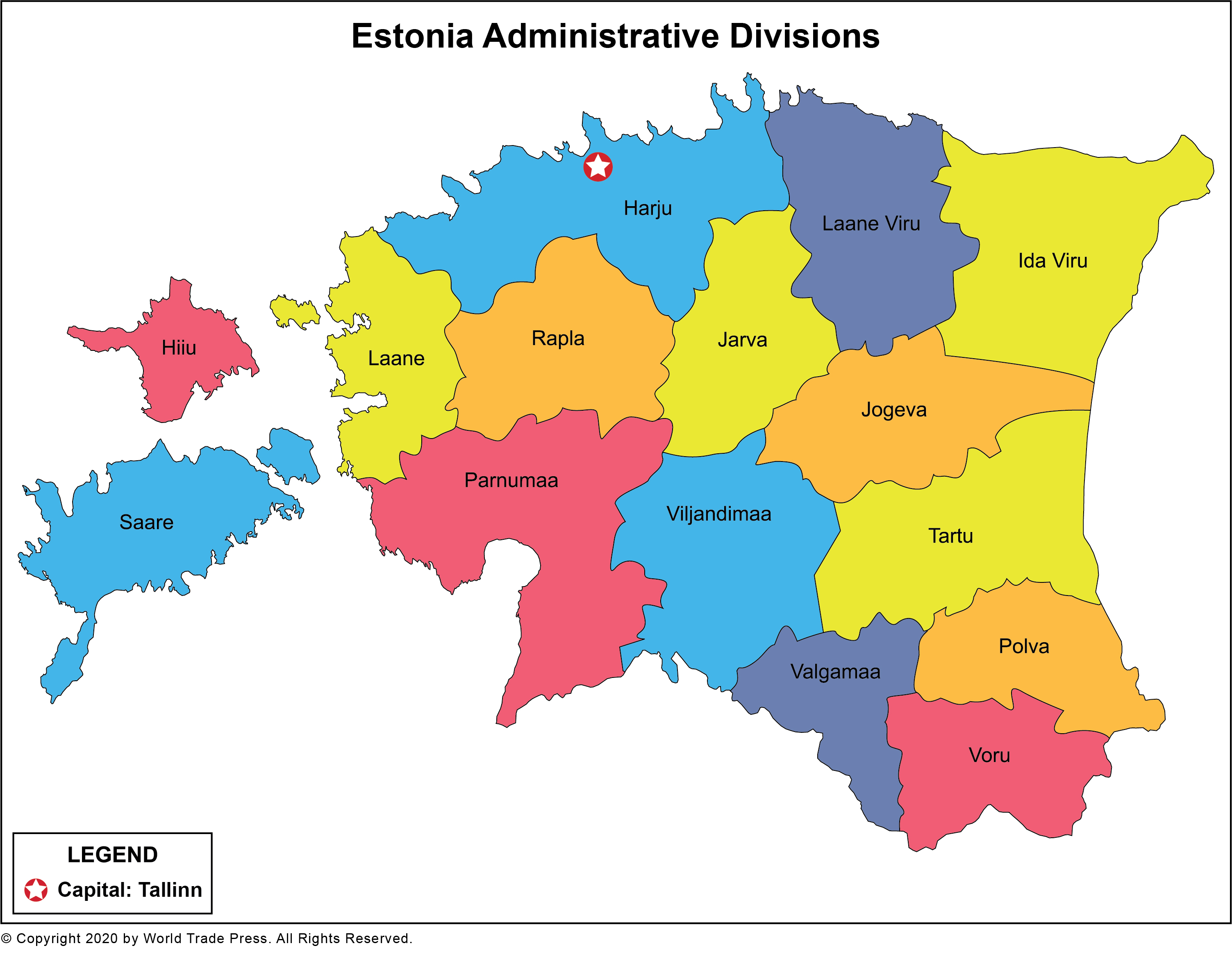 Estonia is made up of 15 counties, each led by a governor (maavanem) appointed by national Cabinet of Estonia (Vabariigi Valitsus). The counties are divided into 79 municipalities (omavalitsused), which are independent, self-governing entities. Each municipality is governed by a combination of an elected representative council (volikogu) and county executive body (valitsus).
There are two types of municipalities: urban towns (linnad) and rural parishes (vallad). Some municipalities are further subdivided into districts. The eight urban districts (linnaosad) of Tallinn have limited self-government, while other urban districts are formed for administrative purposes. Some rural districts (osavallad) have limited powers of self-government, while others do not.
#

County

Flag

Coat of Arms

Municipalities

Urban/
Rural

1

Harju

Keila

U

Loksa

U

Maardu

U

Tallinn (includes eight administrative districts)

U

Anija Parish (includes the town of Kehra and the borough of Aegviidu)

R

Harku Parish

R

Jõelähtme Parish

R

Kiili Parish (includes the borough of Kiili)

R

Kose Parish

R

Kuusalu Parish

R

Lääne-Harju Parish (includes the town of Paldiski)

R

Raasiku Parish

R

Rae Parish

R

Saku Parish

R

Saue Parish (includes the town of Saue)

R

Viimsi Parish

R

2

Hiiu

Hiiumaa Parish (includes the town of Kehra and the borough of Aegviidu)

R

3

Ida-Viru

Kohtla-Järve

U

Narva

U

Narva-Jõesuu (includes the town of Narva-Jõesuu)

U

Sillamäe

U

Alutaguse Parish

R

Jõhvi Parish (includes the town of Jõhvi)

R

Lüganuse Parish (includes the towns of Kiviõli and Püssi)

R

Toila Parish (includes the borough of Kohtla-Nõmme)

R

4

Jõgeva

Paide (includes the town of Paide)

U

Järva Parish (includes the borough of Järva-Jaani)

R

Türi Parish (includes the town of Türi)

R

5

Järva County

Jõgeva Parish (includes the town of Jõgeva)

R

Mustvee Parish (includes the town of Mustvee)

R

Põltsamaa Parish (includes the town of Põltsamaa

R

6

Lääne

Haapsalu (includes the town of Haapsalu)

U

Lääne-Nigula Parish

R

Vormsi Parish

R

7

Lääne-Viru

Rakvere

U

Haljala Parish

R

Kadrina Parish

R

Rakvere Parish

R

Tapa Parish (includes the towns of Tamsalu and Tapa)

R

Vinni Parish

R

Viru-Nigula Parish (includes the town of Kunda)

R

Väike-Maarja Parish

R

8

Pärnu

Pärnu (includes the town of Pärnu and boroughs of Lavassaare and Paikuse)

U

Häädemeeste Parish

R

Kihnu Parish

R

Lääneranna Parish (includes the town of Lihula)

R

Põhja-Pärnumaa Parish (includes the boroughs of Pärnu-Jaagupi, Tootsi and Vändra)

R

Saarde Parish (includes the town of Kilingi-Nõmme)

R

Tori Parish (includes the town of Sindi)

R

9

Põlva

Kanepi Parish

R

Põlva Parish (includes the town of Põlva)

R

Räpina Parish (includes the town of Räpina)

R

10

Rapla

Kehtna Parish (includes the borough of Järvakandi)

R

Kohila Parish (includes the borough of Kohila)

R

Märjamaa Parish (includes the borough of Märjamaa)

R

Rapla Parish (includes the town of Rapla)

R

11

Saare

Muhu Parish

R

Ruhnu Parish

R

Saaremaa Parish (includes the town of Kuressaare)

R

12

Tartu

Tartu (includes the town of Tartu)

U

Elva Parish (includes the town of Elva)

R

Kambja Parish

R

Kastre Parish

R

Luunja Parish

R

Nõo Parish

R

Peipsiääre Parish (includes the town of Kallaste)

R

Tartu Parish

R

13

Valga

Otepää Parish (includes the town of Otepää)

R

Tõrva Parish (includes the town of Tõrva)

R

Valga Parish (includes the town of Valga)

R

14

Viljandi

Mulgi Parish (includes the towns of Abja-Paluoja, Karksi-Nuia and Mõisaküla)

R

Põhja-Sakala Parish (includes the towns of Suure-Jaani and Võhma)

R

Viljandi Parish

R

15

Võru

Võru

U

Antsla Parish (includes the town of Antsla)

R

Rõuge Parish

R

Setomaa Parish

R

Võru Parish

R