Festivals

Calendar
| | | | | |
| --- | --- | --- | --- | --- |
| Festival | 2022 | 2023 | 2024 | Affected |
| Baltica International Folklore Festival | May/June (Estonia) | May/June (Lithuania) | May/June (Latvia) | none |
| Estonian Song Festival | n/a | n/a | Early July | none |
Key:
g = government offices and institutions
b = banks and financial institutions
o = non-retail businesses/offices
r = retail businesses
Baltica International Folklore Festival
Date(s):
Varies with location alternating annually among Estonia (2022), Lithuania (2023), and Latvia (2024), usually in May and/or June
Description:
A week-long festival to promote the cultural traditions of the Baltic countries. 
Background:
The Baltic countries of Estonia, Lithuania, and Latvia have a shared history and cultural background. Since the late 1980s they have taken turns co-hosting a festival to preserve, revive, and develop their cultural traditions.
How Celebrated:
The festival hosts a wide variety of regional dancers, artists, storytellers, and musicians, as well as folk groups from around the world. It features handicrafts, folklore, concerts, and workshops.
Estonian Song Festival (Laulupidu)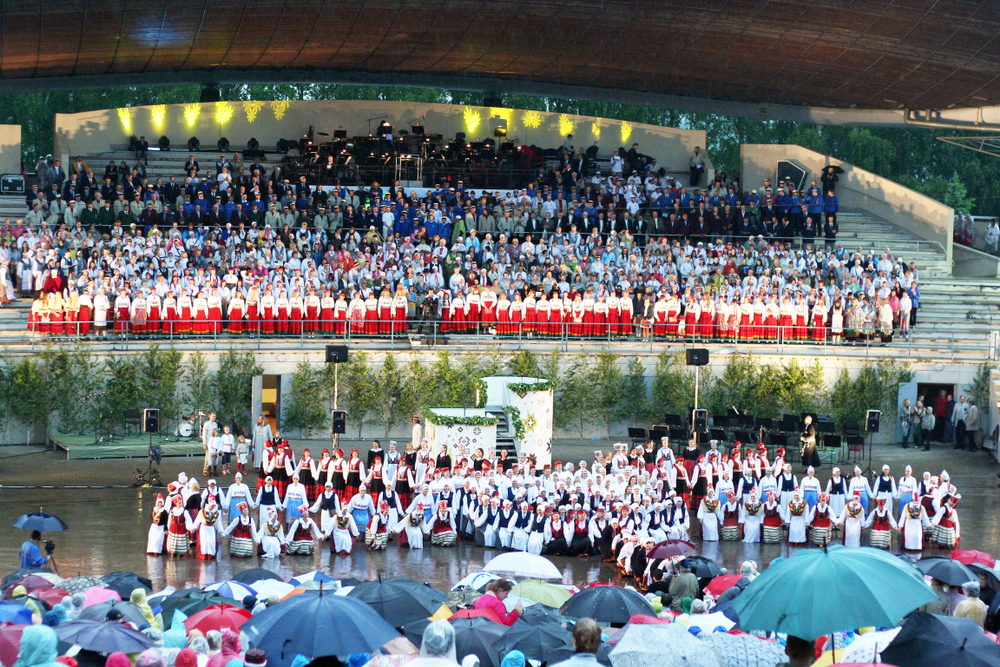 Date(s):
Varies annually during July, taking place every five years
Description:
Singers from across the country gather in Tallinn to perform traditional songs.
Background:
In 1869, to awaken national fervor, Johann Voldemar Jannsen initiated the concept of the Song Festival as a venue for expressing the political and economic struggles of Estonians. This has been the case throughout Estonian history, eventually leading to the 1988 "Singing Revolution" where thousands of Estonians gathered in Tallinn to make political demands through patriotic songs; and the 1989 "Baltic Way" human chain of about 2 million Estonians, Latvians, and Lithuanians to commemorate their sufferings under Soviet rule.
How Celebrated:
Many Estonians take a week off to travel to Tallinn. The festival is held at the foot of the Lasnamägi area near the sea. The event features powerful singing, lively dances, exhibitions, and an elaborate and colorful array of folk costumes. Locals and guests converge for the festival, which attracts around 25,000 participants and an audience of approximately 100,000.