Airport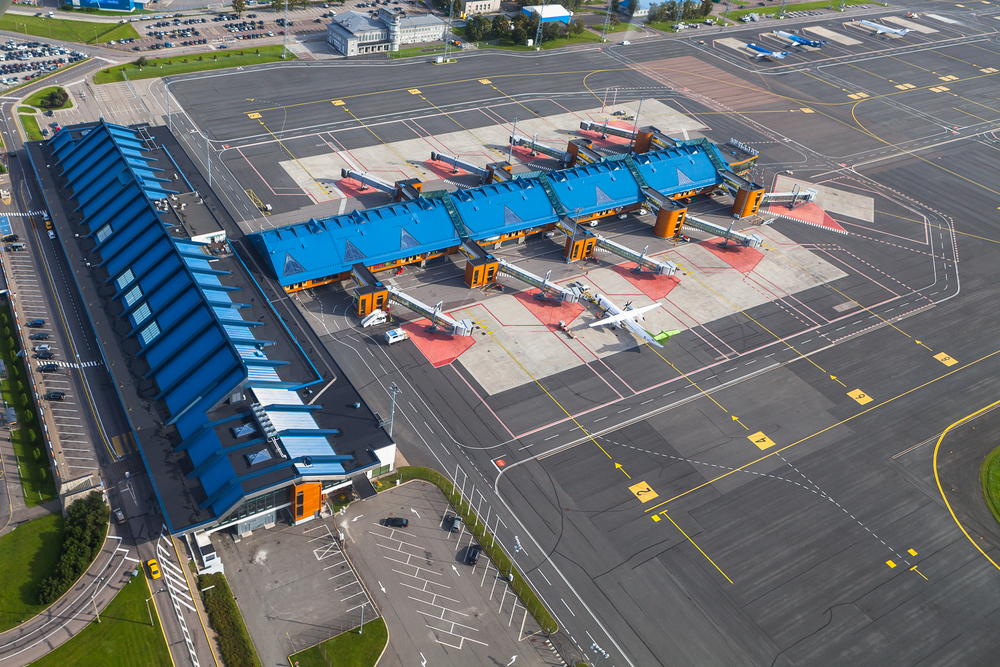 Tallinn
Tallinn Airport (TLL)
Transportation to City Center
The airport lies 2.5 miles (4 km) southeast of the city. For those visiting for the first time, or those seeking convenience, hail a taxi outside the Arrivals Hall. Average travel time is 10 to 20 minutes. The fare from the airport is about EEK 70 to 80. Beware of unscrupulous drivers that may attempt to charge double or triple. Be sure to agree on a price before departing.

Linna Taxi
Tel: 644-2442, GSM short dial 1242 (Taxi Center)

Tulika Taxi
Tel: 612-0000, GSM short dial 1200 (Taxi Center)
Bus
Otherwise, Bus No. 2 (Route: Lennujaam-Mõigu) collects passengers outside of the arrivals hall every 20 minutes. The end of the line is located a few hundred meters from the Viru Hotel downtown. The fare costs EEK 15 and tickets may be purchased onboard or at the R-Kiosk inside the terminal.
If traveling from downtown to the airport, the Kunstiakadeemia city bus stop is on Gonsiori tanav on the corner next to Estonian Art University, about 100 meters from Kaubamaja Department Store and 300 meters from the Viru Hotel. Scandia buses also operate along the airport/city route.
Car Rental
Tallinn Airport has car rental locations for multiple agencies, including Avis, Budget, and Hertz. See "Auto Rental Numbers" for specific listings
Amenities
An airport information service will help travelers with transport connections to and from the airport, area information, hotel information, and visa and customs information. The airport has a restaurant, two snack bars, a bar, banks, post office (Mon. to Sat. 7 a.m. to 6 p.m., Sun. 9 a.m. to 6 p.m.), a shop, cigar specialist shop, kiosk, travel agencies, public card phones, left luggage, VIP services and a business lounge also exist. A lost and found is located in the departure hall.
Information Services
Tel: [372] 605-8888
Fax: [372] 605-8433
Email: info@tllapt.ee
Hours: 5 a.m. to after last flight
Contact Information
Lennujaama 2
Tallinn 11101
Tel: [372] 605-8701 (Operator)
Fax: [372] 605-8333
Web: www.tallinn-airport.ee
Email: marketing@tllapt.ee